Inauthentic actions lead to a lack of trust…or worse
Overly opportunistic, inauthentic interactions lead to a lack of trust. on social media Your social media content should be integrated into your overall corporate strategy. Have a laugh at the expense of these unfortunate companies, but don't join them on a list of social media #FAILS.
Thinking of using bots to build your social media following? Think again. If you use bots to automatically like or retweet content, you could end up doing more harm than good…in these polarized times, accidentally liking or sharing the "wrong" content could get you "canceled."
The same goes for hiring an inexperienced social media intern to manage your presence for you just because they're a "digital native." Your social media manager must be aware of larger corporate issues and goals.
Overly opportunistic, inauthentic interactions lead to a lack of trust.
Cautionary Tales
Example # 1: Kenneth Cole's Tone-Deaf Tweet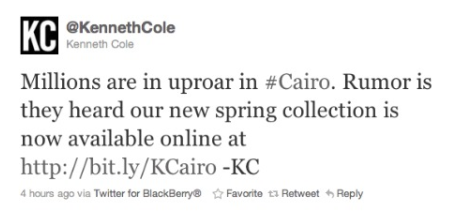 In early 2011, Kenneth Cole attempted to increase the visibility of a marketing campaign by leveraging a trending hashtag that emerged as part of the Arab Spring protests in Egypt. Thousands of people reading the tweet were horrified that the designer would take the deaths and violence of many people in Egypt so lightly. Within hours, Kenneth Cole deleted the tweet and posted a public apology on Facebook. But offended readers were not mollified by the apology. A fake @KennethColePR account was started, posting mocking tweets of Kenneth Cole in a manner similar to the @BPGlobalPR account during the Gulf Oil Spill crisis in 2010.
The damage to Kenneth Cole's brand reputation was so great that this blunder remained at the top of "social media marketing fail" lists for years.
Example #2: A Lack of Awareness of Corporate Issues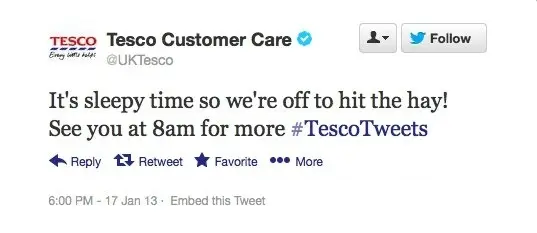 This seemingly innocuous tweet was sent in the midst of a PR crisis. Tesco was under fire because horsemeat had been found in their frozen meals.
Example #3: Lack of Awareness of Current Events / Trending Hashtags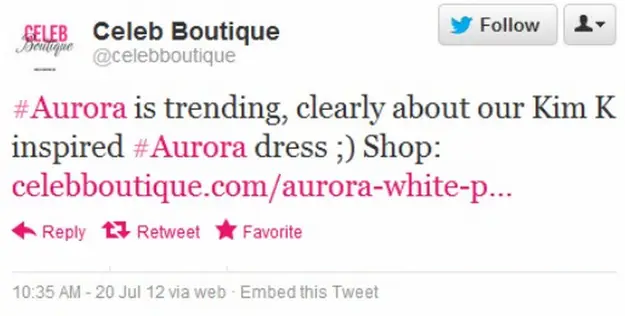 Similar to the Kenneth Cole misstep, this brand decided to jump on to the trending "#Aurora" hashtag without realizing the hashtag was related to the tragic Aurora, CO school shooting.
See more "social media fails" here.